Calibration
Calibration is the comparison of a measuring instrument, the unit under test (UUT) to an appropriate standard that is more accurate than the UUT.
UKAS Calibration refers to calibration that is undertaken in a laboratory that has been independently audited and accredited to carry out the work. United Kingdom Accreditation Service (UKAS) is the only body that the HM Government recognize for assessing and accrediting the competence of calibration and testing laboratories.
UKAS Accreditation
The Eley Metrology laboratory in Derby is accredited by UKAS to ISO/IEC 17025:2017. The internationally recognized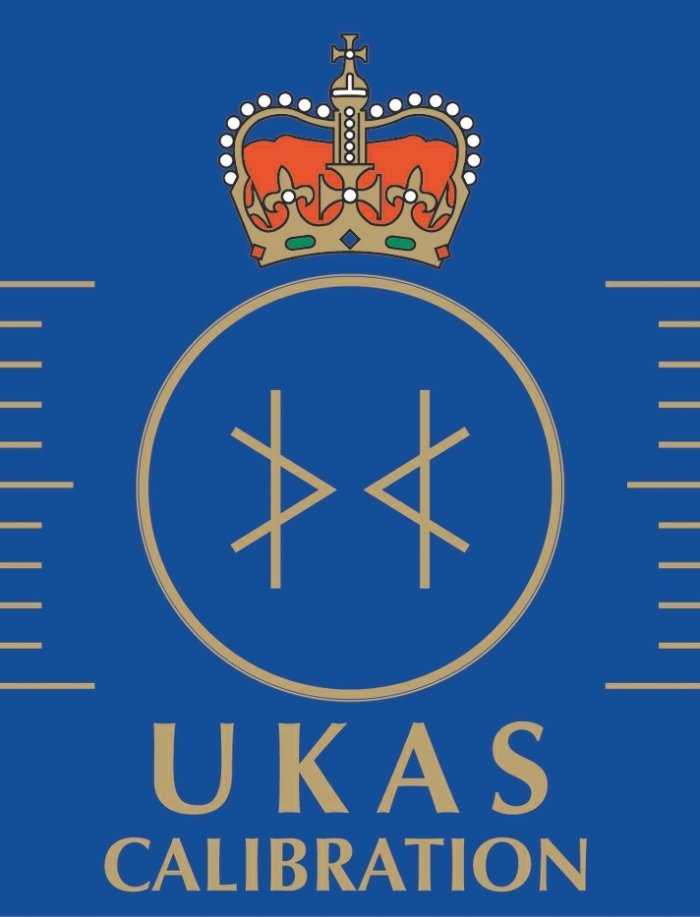 standard for the competence of calibration and testing laboratories.
Each year a team of UKAS auditors, who are all specialists in their field, examine and test all our systems and people. Every fully trained employee has their technical capabilities thoroughly tested. Our ongoing commitment to accreditation and fulfilment of the ISO 17025 means that you can be assured of our competence, impartiality and necessary performance capabilities to deliver technically valid calibration results consistently.
Accreditation to ISO 17025 also means we meet the standards of ISO 10360 Verification and UKAS accreditation. ISO 10360 incorporates the use of calibrated artefacts such as end bars and is a dynamic test that takes into consideration not only the machine but also the probe system and measurement software.
Eley Metrology offers complete CMM calibration with the backing of several years of experience. Our highly skilled and professional engineers can carry out annual services where necessary.
UKAS accreditation of the calibration laboratory does not mean that the laboratory can issue UKAS certificates of calibration for everything that it calibrates. Individual calibration techniques all need to be separately accredited. Our laboratory's UKAS Schedule of Accreditation will detail all activities for which we are accredited.
Our UKAS certificate of Accreditation can be downloaded via this link:-
https://www.ukas.com/download-schedule/0333/Calibration/
If you are unsure whether a laboratory is UKAS accredited to carry out a particular calibration, you can check the Schedule of Accreditation via the UKAS website www.ukas.com and use the search engine for accredited organisations.
UKAS Calibration Certificates
You can instantly recognise a genuine UKAS Calibration Certificate by the UKAS Accreditation Symbol. The symbol depicts the Royal Crown and is printed in the top corner of the front page. An authentic certificate will detail all the measured results of the calibration, both before and after making any adjustments. It should also detail any uncertainty that is associated with the reported results.
However, not all pieces of measuring equipment will have obtained a UKAS calibration certificate, as it is just not possible. In rare instances, there are some types of instruments that no laboratory has been accredited to test.
Alternatively, a UKAS Accredited laboratory may have additional capabilities which are not UKAS-accredited. In these circumstances, it is usual to offer a Traceable, In-house, or Class 1 Calibration Certificate. All three of these generally mean the same thing. This certificate should, at the very least, detail the measured results of the calibration and, likewise, the associated uncertainty of measurement, although they will not bear the UKAS symbol with a Royal Crown.
There is a danger that many manufacturers 'calibration certificates', supplied with new instruments, fall short of the above requirements. They may have something which is only equivalent to a Certificate of Conformity and not a valid Calibration Certificate. Most auditors will not accept these as standard.
However, you can rest assured that here at Eley Metrology Ltd, we are fully UKAS Accredited. Our ISO 103060 incorporates the use of calibrated artefacts and takes into consideration the machine, probe system and measurement software.