At Eley Metrology, we fully understand the importance of coordinate measuring machines. They are a crucial piece of equipment that must be reliable and well maintained. With over 40 years of metrology experience, we have seen several changes to the CMM equipment and software available. This breadth of knowledge makes us ideally placed to advise on CMM upgrades.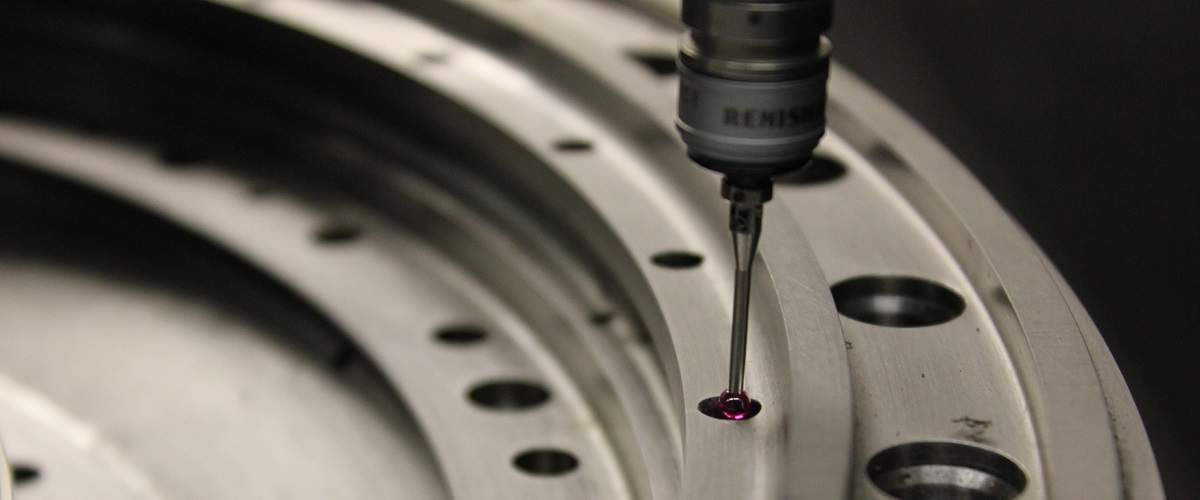 Why Upgrade a CMM?
Coordinate measuring machines are designed and built to last for decades. The materials used for production have been specifically selected for their durable and hard-wearing properties. CMMs that are several years old should still have a strong frame, air bearings in good working order and a smooth granite surface. If regular maintenance has not been performed, these parts may have suffered, which can be addressed during an upgrade.
CMM upgrades are required for a variety of reasons, including the replacement of broken parts or operating system updates.
With technological developments in manufacture and quality control, the demands to the reliability of the CMM has increased. The requests for tighter tolerances, more flexibility and intricate inspection requirements can mean an upgrade is essential.
At Eley Metrology we can complete all kinds of upgrades ranging from PC and software upgrades to full CNC retrofits. We can complete CMM upgrades to both our own machines and third-party devices.
CMM Upgrade or a New Machine?
If you are considering an upgrade to your Coordinate Measuring Machine, we can help with advice on how to proceed. Depending on the requirement for your CMM, we may at times recommend the purchase of a new machine.
The most important factor in deciding on purchasing new or upgrading is to ascertain whether the demands of the CMM drivers and controllers are going to improve. We work with you to identify if increased accuracy and repeatability is possible with upgrades. The technology available today provides the infrastructure for more diverse measurement and inspection than was accessible in the past.
If it's just components that need to be replaced, then an upgrade is the best solution, and of course, far more cost-effective. Some CMM computer systems are unsupportable due to parts that are no longer available. An upgrade can replace all outdated components to a system that will be able to accept future advances and controllers.
Pricing is also a significant factor in the decision to upgrade an existing machine or to purchase a new model. Buying a new machine can cost from £100k to £500k. This gives you the most up to date hardware, software, machine frame and very few technical and mechanical issues.
One aspect to consider when investing in a new CMM is the downtime while replacing the old machine. Programming needs to be implemented, operators need to be trained, and the installation may run into teething problems. If the new installation has been scheduled accordingly, downtime should already be included in the timescale. The result will be a faster, more efficient CMM with capabilities to sustain the high demands of today's measurement and inspection requirements.
Modern Scales
By replacing the scales, the resolution will probably increase, and this will offer your CMM a "feels like new" experience. As most new scales have diagnostic LED lights troubleshooting scale errors will be easily rectified increasing uptime and saving money on repairs.
Neutral Controller
A variety of options for neutral controllers that work with the majority of CMM software packages and CMM bases are available. Using neutral controllers enables you to take control of the lab with the ability to make choices on software packages and servicing options.
Software packages: With a neutral controller, you have the flexibility to have several software packages on your CMM, enabling you to service most of your customers specific or exact program requirements.
Service choices: A neutral controller gives you the option to select your preferred supplier to service your CMM
Software
Software has improved substantially in the past five years and will continue to advance based on the incorporation of probe products. CAD capabilities are also incorporated into the latest software, offering complete off-line part measurement and simulation. Some of the most powerful, simple and cost-effective software solutions available offer you the option to work with each.
---
The Benefits of CMM Upgrades
It usually costs much less to upgrade a CMM than to invest in new equipment. With the latest technology added, an old machine can be more accurate than a brand-new one.
The first CMM builders corrected inaccuracies through hard work. If the granite wasn't perfectly flat, it was lapped. If a guide wasn't straight, it was re-machined. The CMM's mechanical parts were made as accurately as possible, resulting in a highly repeatable machine.
The work to update a CMM is carried out on-site, creating minimum disruption and downtime. If a significant retrofit is completed, the work is covered by a full ISO 10360 verification and supported by a UKAS Certificate of Calibration.
When the CMM upgrade is complete, it's an excellent opportunity to refresh staff training. If required, training can be provided by the Eley Metrology training team.
All CNC updates to CMMs include the use of Renishaw UCC controllers and Eley Metrology's measurement software suite, True Measure 4.
When the CMM upgrade is complete, it's an excellent opportunity to refresh staff training. If required, training can be provided by the Eley Metrology training team.
---
7 Reasons Why CMM Upgrades Will Improve Your Financial Growth
1) Compatibility Across Multiple Measuring Devices
Standardising to a single measurement software on your manual and direct computer-controlled CMMs enables all engineers to understand the operating systems. This can lead to a reduced training and support burden allowing for a more flexible use of your engineers.
2) Future Proof
An upgrade provides confidence that your CMM will perform measurement tasks for today and in the future.
3) Staying on Top of Emerging Technology
As software evolves, interface capabilities become far more superior with a broader range of controllers. This enables you to display results using virtual simulation and graphics as well as the ability to read CAD files.
4) Increased Productivity
Save time and money thanks to a greater throughput which is achieved using the latest sensor technology.
5) Reduced Maintenance Costs
With up to date control systems and electronics, the CMM operational aspects are far more reliable. This reduces CMM servicing costs and time.
6) Improved Performance
The drive system and motors determine the overall performance of your CMM and with wear and tear the results lower throughput. By upgrading the drive system, the performance will remain at its peak if well maintained.
7) Accuracy
With today's technology, the scale system is far superior and will ensure your CMM continues to operate at the highest level of accuracy for many years.
---
What Our Customers Say.....
"Work was carried out to a high standard, Eley were very accommodating in meeting our deadline requirement. All the staff were very helpful, informative and conducted themselves in a professional manner" - Michael of The University of Derby
"The pricing of the upgrade suited our budget and at my previous places of work we had used Eley and this meant we knew exactly what could be achieved as having such skilled engineers installs confidence in the companies' abilities. You were also a local company that had been trading for many years and it was very professional service. After having spoken with your training staff after our one day course at Derby, they were willing to come over to our facility should the need arise, so again this does help install confidence in what you have purchased and it's good to know that you have such a strong back-up team, should the need arise" - John at SS Plastics
"The machine is still operating fine after the upgrade in 2013 and I've had no issues at all" - Mark at SS Plastics
---
Find Out More
With more than 40 years of metrology experience, our engineers can upgrade your CMM with minimum effort to improve and enhance your operational performance.
If you'd like more details about CMM Upgrades, then our team are available to help.
Call Us: +44 (0) 1332 367475
Email: sales@eleymet.com
Send your enquiry via our contact form below;