With more than 40 years of experience in manufacturing metrology products, Eley Metrology is the leading UK independent manufacturer of precision measuring equipment including our industry-leading range of coordinate measuring machines.
Using high precision manufacturing techniques, and constructed from hand lapped granite, our CMMs are the only machines available on the market that do not require software 'error mapping'.

Why Choose Eley Metrology
• Available in a standard measuring range of sizes from 500x400x400 up to 3000x1800x1200mm
• Larger CMM sizes are available on request, and unique designs, such as the LBM (Long Bore Measurement Machine), can be produced. With its 2-metre long measuring arm, this groundbreaking coordinate measuring machine is used by some of the world's leading aerospace companies
• All our CMM's are supported by a UKAS Certificate of Calibration through our UKAS-accredited laboratory to ISO 10360-2. We are very proud of the fact that we were the first CMM company in the world to attain ISO 10360
• All our products are UK designed and developed and supported by our experienced team of engineers
• We also provide a comprehensive CMM inspection service offering fast turnaround and accurate analysis of manufactured components
---
Our Coordinate Measuring Machine Range
---
What is a Coordinate Measuring Machine (CMM)
The Basics
A coordinate is a fixed point on a three-dimensional space. Using a series of points a coordinate measuring machine can be used to define the parameters of complex shapes with accuracy. A CMM can also create a repeating programme to ensure all parts are identical where needed.
A Coordinate Measuring Machine in More Detail
A CMM is a state of the art device that is used for the measurement of the physical geometrical characteristics of an object by sensing discrete points of the surface with a probe.
The machines are either manually controlled or computer-controlled. Eley Metrology CMMs are the only machines that do not require software 'error mapping'. We use high precision manufacturing techniques that are constructed from hand lapped granite.
Different types of probes are available including mechanical, optical, white light and laser. A CMM will precisely record the X, Y and Z coordinates of an object so points are generated which can be analysed via regression algorithms for construction. This three-dimensional Cartesian coordinate system can also allow the probe to record measurements of surfaces that are ordinarily unreachable.
A coordinate measuring machine is also used in the manufacturing and assembly process to test against design intent.
A CMM that has direct computer control can be programmed to measure identical parts in a repeating process and may be seen as a specialised type of industrial robot.
Our machines are available in a standard measuring range of sizes from 500x400x400 up to 3000x1800x1200mm and can scan with a probe or laser head. We can also produce special designs and larger sizes such as the groundbreaking LBM (long bore measurement machine). Our company is the first to have its coordinate measuring machines attain an ISO 10360. All Eley CMM's are supported by a UKAS Certificate of Calibration through our UKAS-accredited laboratory to ISO 10360-2.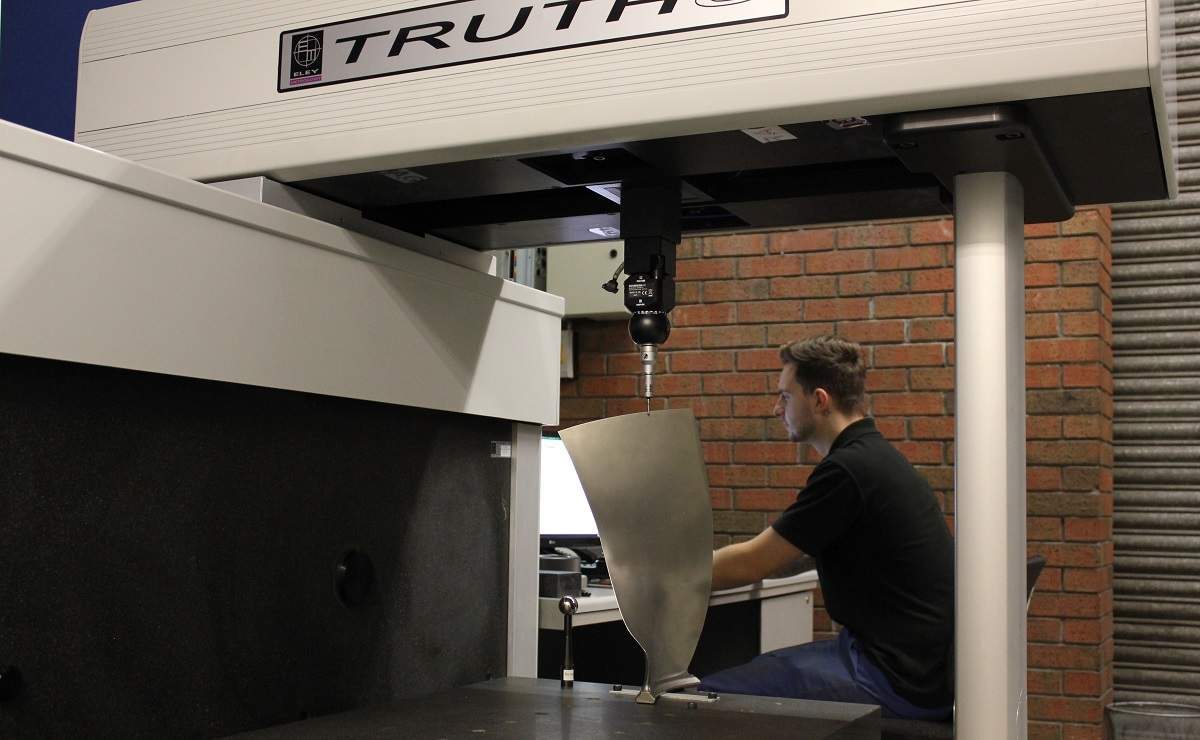 Why Use a Coordinate Measuring Machine (CMM)?
A CMM will save you both time and money. More refined parts and complex designs are constantly being required, so a machine that can give precise and accurate measurements is becoming essential.
A coordinate measuring machine can give you accurate results in a short space of time without you having to take large parts away from the shop floor. You will no longer be dependent upon a dimensional lab
A portable CMM is particularly useful in industries such as aerospace and automotive as they take up very little space while offering extremely accurate readings on parts that can't be moved.
Portable wireless CMM's are also great for geometric surfaces and quality control as they can literally be taken anywhere.
What are the Benefits of Using a CMM?
Your parts can be verified by CMM inspection. You can commission 3D inspections, tool certifications, CAD comparison, reverse engineer and dimensional analysis.
A CMM provides superior precision that is going to ensure your company is producing top quality products and parts.
How Coordinate Measuring Machines Work
CMM's vary in size, shape and functionality. Below we outline how a bridge CMM or gantry CMM typically works.
The foundation is a heavy base plate or table that the object is placed on to be measured. We use 100% hand lapped granite for ultimate stability and strength. On top of this table, a mounted moveable bridge or gantry is attached. Vertical posts support a horizontal beam which has a suspended vertical column holding the measuring probe.
The X-axis (table) is a granite wall or 'riser' that make this axis ultra-stable. We use a V-Flat guideway with air bearings on all four sides for the best accuracy fulfilling metrological principals for defining the X-axis.
On the Y-axis is a twin beam with the Z-axis spindle located centrally between them. This will be perfectly balanced and mounted on three individual steel ball jacks to make it free from stress. The Z-axis assembly floats on air bearings that are on top and underneath the Y-axis bridge to prevent lifting and is kinematically mounted on three ball jacks to free it from stress.
The bridge or gantry moves along the X-axis, the vertical spindle moves along the bridge defining the Y-axis and the probe on the vertical column can move up and down which defines the Z-axis.
The probe that is suspended from the spindle then communicates its data with a computer which then interprets using specialised software to create a 3D map of the part.
A touch probe will make physical contact with the object which may not be suitable for all projects. If for example, you have highly sensitive materials or materials that may bow under the probe creating inaccurate readings, we would recommend using the laser probe.
---
Find Out More
If you'd like more details about our range of CMM's including Bridge CMM's, Digital Height Gauges and the Long Bore Height Gauge then our team are available to help.
Call Us: +44 (0) 1332 367475
Email: sales@eleymet.com
Send your enquiry via our contact form below;