The decision to use Cast iron or Granite for Metrology surface plates can be a conundrum for some industries. Which one should you be using and what are the benefits of both?
We list the benefits and drawbacks of each with the aim to ensure that your decision can be made with confidence.
The most important factor depends on the working environment, the specific requirement for the surface plate and budget.
Stability, accuracy and in some cases weight are important. Granite offers all of this compared with cast iron.
Easier to achieve the standard by lapping than by hand scraping.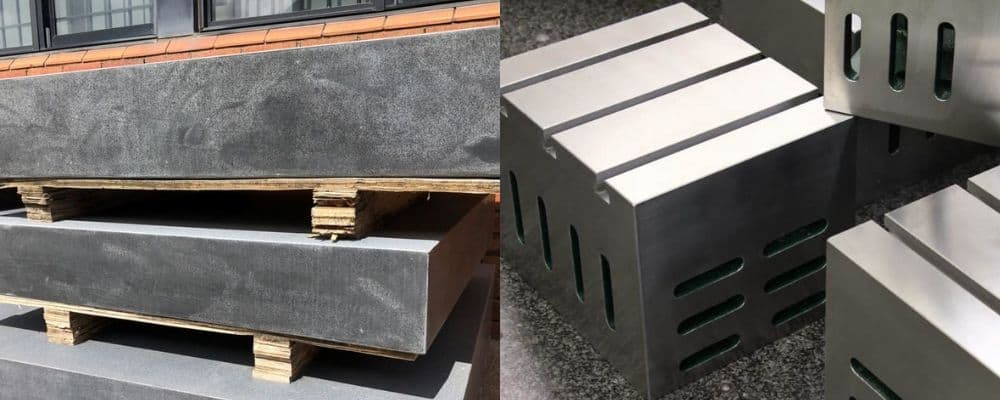 | | |
| --- | --- |
| GRANITE | CAST IRON |
| BENEFITS | BENEFITS |
| High vibration damping | Threading/Drilling capabilities |
| Low coefficient of expansion – expands at half the rate of iron/steel | High vibration damping |
| High degree of hardness | High vibration damping |
| Non reflective matt surface | DISADVANTAGES |
| Easy to clean | More prone to wear and will dent causing high spots |
| Rust and acid resistance | Scratches easily |
| Compressive strength is high | Expensive compared to granite |
| Small impact does not affect accuracy | Magnetic |
| Low Maintenance | Expands more |
| Stress-free | Double in weight |
| Can be resurfaced on site | Has to be resurfaced at onsite |
| Non-magnetic | Expensive for scraping |
| DISADVANTAGES | |
| Threaded inserts need to be professionally carried out professionally | |
Eley's Cast Iron product range covers all needs from surface plates to box angle plates. With the ability to produce custom products we can accommodate customer requirements in all fields.
We produce and resurface bespoke and custom granite artefacts, from large scale pieces to small precise artefacts. We cater for all requirements. With several grades available for each artefact, we have products to suit every environment such as workshop and laboratory and every budget. To ensure specifications are within the required tolerances our granite artefacts are hand-lapped.